USU NEWS
Thursday, Jun. 14, 2018

There are many ways to describe chocolate: Dark, milk, bittersweet, creamy, rich, smooth. And soon, chocolate will become a delicious and intriguing new venture for Utah State University's food science program with the opening of The Aggie Chocolate Factory. Read more.
Monday, May. 14, 2018

Longtime Utah State University professor and administrator Jagath Kaluarachchi has been selected as the new dean of USU's College of Engineering.
Kaluarachchi, who has served as the interim dean in the College of Engineering since July 2016, will officially step into a permanent role on July 1. Read more.
Four Individuals to Receive Honorary Degrees at USU's 131st Commencement
Tuesday, Apr. 24, 2018
Utah State University welcomes four distinguished individuals to receive honorary degrees during its 131st graduation ceremony.
Those receiving honorary degrees are Thierry Fischer, conductor and music director for the Utah Symphony, Bartell C. Jensen, former USU vice president for research former president of the USU Research Foundation and Space Dynamics Laboratory; John Welch, founding partner of Los-Angeles, California-based law firm Latham and Watkins; and Gail Sorenson Williamsen, founder of the Elizabeth Academy in Salt Lake, an innovative and fully-inclusive Montessori school. Read more.
New Provost Named at Utah State University
Tuesday, Apr. 17, 2018

A veterinarian, researcher, author, teacher and administrator over the past 34 years has been selected to be the new executive vice president and provost of Utah State University.
Francis D. Galey, dean of the College of Agriculture and Natural Resources at the University of Wyoming, accepted the offer Monday from USU President Noelle Cockett. He fills the position she left vacant upon becoming the university's 16th president in January 2017. Read more.
Tuesday, Mar. 27, 2018
Utah State University physics professor David Peak is the 2018 recipient of the
national
Council on Undergraduate Research-Goldwater Scholars Faculty Mentor Award. Selected from 10 finalists nationwide, Peak has mentored, to date, more than 30 USU undergraduates, who have received a phenomenal 36 Goldwater Scholarships and Honorable Mentions – a number that rivals Ivy League competitors. Read more.
Monday, Mar. 19, 2018

Out-of-state students attending Utah State University this fall can potentially save thousands of dollars in tuition thanks to the recent passing of a bill by the Utah Legislature which altered the Alumni Legacy Waiver. Sponsored by Rep. Val K. Potter, R-North Logan, House Bill 349 was passed March 6, making it easier for nonresident students who are the children or grandchildren of USU graduates to pay a reduced tuition amount. Read more.
Thursday, Mar. 15, 2018
New research findings posted March 7, 2018, by Utah State University geologist Benjamin Burger on the EarthArXiv Preprints website, are generating worldwide media interest about what caused the Earth's deadliest mass extinction, often referred to as the "Great Dying," 252 million years ago. Read more.
Thursday, Mar. 08, 2018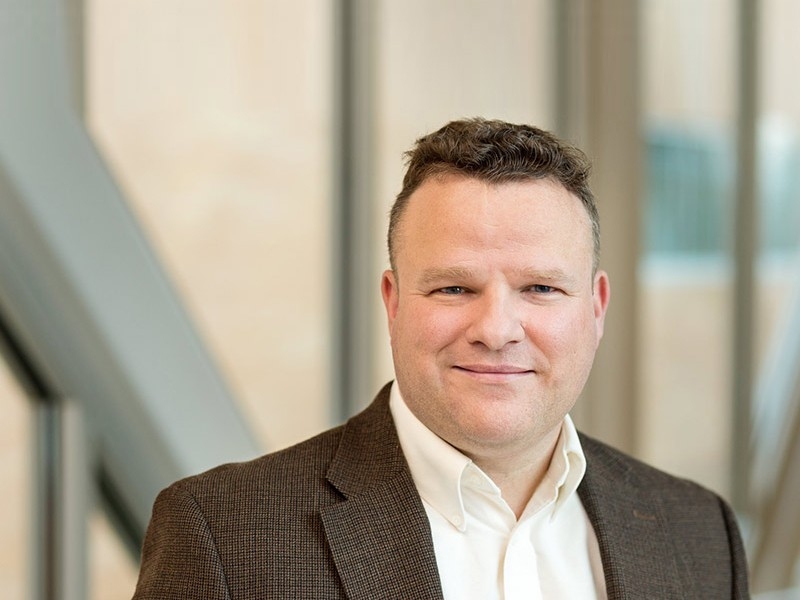 A researcher at Utah State University is developing non-visual techniques to teach the fundamentals of engineering to students who are blind or low vision.
Wade Goodridge, an assistant professor of engineering education at USU, is partnering with the National Federation of the Blind to help students develop spatial abilities and increase their awareness of education and career opportunities in engineering. Read more.
Friday, Feb. 16, 2018

Is evolution predictable? Are changes in a species random or do they happen because of natural selection?
"Evolution often appears random, even when driven by the deterministic process of natural selection, because we just aren't aware of all the environmental fluctuations and other factors taking place that drive change," says Utah State University geneticist Zach Gompert. "If we had a better understanding of the mechanisms at play, we might have a better picture of evolutionary change and its predictability." Read more.
Utah State Student-Athletes Excel in the Classroom and on the Fields
Wednesday, Jan. 24, 2018
Utah State student-athletes registered record-setting results both on the fields of competition and in the classroom during the Fall of 2017 academic semester.
"It's gratifying to have the success we've had on the fields of competition, but seeing our student-athletes achieve at such a high level in the classroom is especially rewarding," said Utah State Vice President and Director of Athletics John Hartwell. "It shows that we are doing our very best to prepare them for life after their collegiate careers."
Utah State student-athletes lit up the academic scoreboard last semester with 47 individuals achieving a perfect 4.0 grade point average. Read more.
Researcher's Work on Parent-Child Estrangement Gets a National Platform
Thursday, Jan. 18, 2018
As our modern society slips away from the definition of a family as mom, dad and kids chatting over family dinner, researchers are trying to understand the "whys."
Among the nation's most accomplished researchers on family dynamics, particularly parent-child estrangement, is Kristina Scharp, an assistant professor of Communication Studies and director of the Family Communication and Relationships Lab in the College of Humanities and Social Sciences. Read more.
WebAIM has long set the standard for web accessibility, and its WAVE tool has made it possible for people everywhere to find out whether a web page is usable for people with disabilities. Now, new options make it possible to use WAVE across an entire website. Read more.
Thursday, Jan. 11, 2018
Nearly 2,000 years ago, Fremont Indians hunted, farmed corn and scooped out underground homes, all under the blazing blue skies of what's now northeastern Utah.
But they remain something of a puzzle. Read more.

Wednesday, Dec. 13, 2017
Utah State University Aggies love tradition, so it's only fitting they observed an ancient tradition
,
while celebrating a major milestone in the construction of the new Life Sciences Building. Aggie scientists and supporters, along with Jacobsen Construction employees, representing the structure's contractor, gathered Dec. 12, to mark the placement of the final steel beam atop the 103,000-square-foot facility. Read more.
Tuesday, Nov. 14, 2017
In a room packed with colleagues, advocates and family members at the Association of University Centers on Disabilities (AUCD) Honors Celebration in Washington, D.C., Judith Holt was presented the George S. Jesien Distinguished Achievement Award November 7. The award recognizes "a distinguished career of excellence and leadership in support of AUCD's mission to advance policy and practice for and with people living with developmental and other disabilities, their families and communities." Read more.
Tuesday, Nov. 07, 2017
Early flowering, early fruiting: Anecdotal evidence of climate change is popping up as quickly as spring crocuses, but is it coincidence or confirmation of shifts in plant phenology caused by global warming?
"My mum reports her snowdrops are blooming earlier each spring in her English garden," says Utah State University scientist Will Pearse. "Are her observations, like those of thousands of citizen scientists across the world, indicating unpredictability in temperature, precipitation and other weather patterns?"
Until now, scientists had few tools to piece together disparate data into a collective, bigger picture. Now, Pearse and colleagues announce a statistical estimator that extracts meaningful measures of phenological change – that is, the timing of plants' reoccurring life history events – from scores of data collected by current and ancestral citizen scientists (Henry David Thoreau among the latter cohort), along a continuous record from herbaria plant collections stretching more than 200 years into the past. Their findings appear in the Nov. 6, 2017, online edition of Nature Ecology & Evolution. Read More.
Thursday, Oct. 19, 2017

Broadcast students in the Department of Journalism and Communication at Utah State University took home the award for Best Newscast from the National Academy of Television Arts and Sciences' university competition.
NATAS, the organization responsible for the Emmy Awards, announced the Student Production Awards Oct. 14 in a ceremony prior to its Regional Emmy Awards gala. Read more.
Tuesday, Oct. 17, 2017
Utah State University Eastern in Price Utah unveiled its Block A as part of USU's Homecoming celebration in October. The Block A is a replica of the iconic statue in Logan where one becomes a "True Aggie" by kissing at midnight under lighted "A" on
Old
Main tower under a full moon and during special university events such as Homecoming and "A" Day. Read more.
Monday, Aug. 21, 2017
Incoming students at Utah State University will participate in the second annual Connections Luminary, a new tradition at the institution. Students enrolled in the USU 1010 Connections course will each light a luminary lantern shaped like the tower of Old Main, and will participate in a processional from the Spectrum to the USU Quad on the Logan campus Friday, Aug. 25, at 9 p.m. Read more.
Wednesday, Jul. 26, 2017
Chris Thurston lives a pretty typical life for a 9-year-old; except that he just co-authored a research paper for a medical journal, and he manages Type 1 Diabetes during nearly every moment of his life.
Victor Lee, associate professor of Instructional Technology and Learning Sciences in Utah State University's Emma Eccles Jones College of Education and Human Services, along with Chris's father Travis Thurston, are co-authors of an article published in July 2017 in Methods of Information in Medicine on how data collection and its related discoveries are shaped by the design of wearable technology. Read more.
Thursday, Jul. 13, 2017
She was dignified, decorous and an island of calm waters. Still, Ms. Mary Thorp remains the perfect storm in the sea of World War I scholarship.
An English Governess in the Great War (Oxford University Press, June 2017) introduces one to this extraordinary, formidable English woman through the pages of her wartime diary, edited and footnoted by Tammy Proctor, head of Utah State University's Department of History, and Sophie De Schaepdrijver, a professor at Pennsylvania State University. Read more.
Friday, May. 19, 2017

Utah State University's Gaining Early Awareness and Readiness for Undergraduate Programs (GEAR UP) program and Space Dynamics Laboratory have partnered with U.S. Senator Orrin Hatch and NASA to provide a live conversation between astronauts currently aboard the International Space Station and more than 200 students from across Utah. The downlink occurred at 10:40 a.m. (MDT), Friday May 19. The 20-minute Earth-to-space call aired live on NASA Television and the agency's website. Read more.
Tuesday, May. 09, 2017
USU natural resources sociologist Courtney Flint is usually absorbed in the study of humanity's intersection with the natural world.
Since Monday, her time has gone to answering a barrage of emails and calls from news reporters worldwide seeking her opinion of news that she would no longer be on a scientific board that advises the Environmental Protection Agency. Read more.
Thursday, May. 04, 2017
Utah State University Extension was recently named Best of State winner for adult education in Utah. The Best of State Awards recognize outstanding individuals, organizations and businesses in Utah. Nominees are judged on achievement in their field of endeavor; innovation or creativity in approaches, techniques, methods or processes; and contribution to improving the quality of life in Utah. Read more.
Wednesday, Apr. 05, 2017
Utah State University scholars Jake Christensen and Thomas Hill were named 2017 Goldwater Scholars, and fellow undergraduate A. J. Walters received an honorable mention, in a prestigious national competition that recognizes outstanding achievements in science and mathematics. Read more.
Thursday, Mar. 16, 2017
"U.S. News and World Report" magazine has again named the graduate programs in Utah State University's Emma Eccles Jones College of Education and Human Services among the top tier of colleges of education in the nation.
In the 2018 edition of "America's Best Graduate Schools," the magazine ranked the college 26th in the nation overall against all graduate colleges of education. The college has moved up from 30th last year and is the only school of education in Utah to place in the top 50. Read more.
Food on Mars, Food on Earth: NASA Taps USU Scientists for Space Quest
Wednesday, Mar. 01, 2017
Can earthlings live on Mars? They can if they develop self-sufficiency. NASA is betting on a multi-institution team of the best and brightest, including Utah State University scientists, to create the necessary technology and put it in the hands of future Mars pioneers. Read more.
Thursday, Feb. 23, 2017

Factory Girl, Corey Christiansen's June 2016 album, has been named one of the "Best Recordings of 2016" by allaboutjazz.com. Christiansen, director of guitar studies in the Caine College of the Arts at Utah State University, is noted along with other jazz greats like Dr. Lonnie Smith and Bill Frisell. Read more.
Wednesday, Dec. 21, 2016
If you're shivering from unusually teeth-rattling cold this holiday season, global warming is probably the last thing on your mind.
"The local weather conditions people experience likely play a role in what they think about the broader climate," says Utah State University researcher Peter Howe. "Climate change is causing record-breaking heat around the world, but the variability of the climate means that some places are still reaching record-breaking cold. If you're living in a place where there's been more record cold weather than record heat lately, you may doubt reports of climate change."
Howe says people's beliefs about climate change are driven by many factors, but a new study in which he participated suggests weather events in your own backyard may be an important influence. Read more.
Thursday, Dec. 08, 2016
President Stan and Joyce Albrecht may have planned on a brisk walk in the 21-degree weather from Old Main to the Taggart Student Center ballroom on the Utah State University campus in early December for their farewell reception, but something else happened along the way that slowed them down considerably.
Hundreds of university faculty, staff and students surprised the institution's 15th president and first lady by lining the sidewalk the entire way in a show of gratitude and appreciation for their 11 years and 11 months of service. Read more.
Thursday, Nov. 17, 2016
Two Utah State University interior design students from the Caine College of the Arts won prizes at the National Daltile Student Competition.
Ali Guyman and Ben Roghaar each took home honorable mentions and $2,500. USU's Interior Design Program won a university grant of $10,000 for having the highest number of students entered in the competition. Read more.
Wednesday, Oct. 19, 2016
After a nationwide search and a review of nearly 40 applicants, the Utah State University Presidential Search Committee has recommended four finalists to the State Board of Regents for the position of Utah State University President: Dr. Don Blackketter, Dr. Noelle Cockett, Dr. Keith Miller and Dr. Mark Rudin. Read more.
Thursday, Oct. 06, 2016
Utah State University is the recipient of a competitive $2.7 million National Science Foundation Research Traineeship award that will afford USU students in 20 STEM graduate degree programs the opportunity to pursue advanced interdisciplinary research training and a Climate Adaptation Science specialization. Read more.
Thursday, Sep. 15, 2016
For the past four years, scientists at Utah State University's Space Dynamics Lab have spent much of their time designing and constructing cameras for NASA's OSIRIS-REx mission.
On Thursday night [Sept, 8, 2016], the rocket finally lifted off from Florida's Cape Canaveral Air Force Station, and scientists gathered with their families to celebrate years of hard work. Read more.
Thursday, Sep. 08, 2016
A team of environmental engineers and a wetland ecologist have created a computer model that can help wetland biologists increase the size of migratory bird habitat and combat invasive vegetation using existing resources. Read more.
Aggie Ice Cream voted Utah's best local ice cream shop
July 26, 2016
SALT LAKE CITY - More than 18,700 votes later, Aggie Ice Cream handily won KSL.com's poll for the best local ice cream shop.
The on-campus parlor beat out 15 other contestants by taking 33 percent of the votes. BYU Creamery came in second place with 22 percent of the votes and Leatherby's, with 15 percent, rounded out the top three. Read more.
Thursday, Aug. 04, 2016
In World War II, Britain and America built two full-size harbors, dragged them across the English Channel and hitched them in place at Normandy, France. That same day, thousands of Allied soldiers clambered onto the beaches of Normandy.
Now, we're talking harbors, usually very large constructions that provide protective, wakeless enclosures for ships. So, why aren't these portable, towable harbors that played such a vital role in the Normandy invasion a better-known fact of war history? Read more.
Thursday, Jun. 30, 2016




Fifteen students from Utah State University's Department of Landscape Architecture and Environmental Planning (LAEP) learned from prestigious landscape architects and explored notable landmarks on a ten-day educational trip to New York City. Read more.
Edith Bowen Students Aid USU-led River Conservation Efforts
Thursday, Jun. 02, 2016
Second grade students from the Edith Bowen Laboratory School on the Utah State University campus were key players in a collaborative conservation effort along the banks of Cache Valley's Blacksmith Fork River. Read more.
Thursday, May. 19, 2016

With a sharp military salute — and hug from mom — nine young men in Utah State University's Air Force ROTC were commissioned as second lieutenants May 6.
All of the new officers have their orders and are headed to Air Force bases around the country, said Lt. Col. Alex Dubovik, professor and director of Aerospace Studies in the College of Humanities and Social Sciences. Read more.
Kiss after kiss: True Aggie tradition going strong with Block 'A' centennial
April 28, 2016
For Sharon and Bill Larkin of Fruit Heights, the block "A" on Utah State University's campus represents making a commitment that is 41 years strong. Read more.
Thursday, Apr. 14, 2016

A suite of space-weather instruments built for NASA by Utah State University's Space Dynamics Laboratory has entered environmental testing at SDL's Calibration and Optical Research Laboratory.
NASA's Ionospheric Connection Explorer mission, known as ICON, will explore the area of the atmosphere where weather on Earth and weather in space meet, creating conditions that may affect terrestrial communications. ICON will help scientists better understand the upper atmosphere and to determine the causes of energy variations in that region. Read more.


Tuesday, Mar. 29, 2016


Utah State University's Emma Eccles Jones College of Education and Human Services has been named as one of the U.S. News & World Report's top 50 graduate education programs in the nation. Read more.
Thursday, Mar. 24, 2016
Utah State University has flown more experiments to space than most universities around the world, due in large part to the work of Bruce Bugbee. For his continued demonstration of creative achievement and excellence in research, the College of Agriculture and Applied Sciences researcher is the 2016 D. Wynne Thorne Career Research Award recipient, the most prestigious research accolade given at USU. Read more.
Thursday, Feb. 11, 2016
Rahul Thakkar actually left his home in India because he figured it would be easier to make movies in Hollywood than it would be in Bollywood.
"Well … no," he now says laughing. "It's not. It's a lot harder!"
Still, after securing a master's degree in computer graphics from Utah State University in 1995 — which led to a digital movie-making toolkit of sorts he designed for DreamWorks Animation, and, later on, a number of patents — Thakkar is now a part of Hollywood's most celebrated inner circle. He's an Oscar® winner and will be presented a Science and Technical Achievement Academy Award® Saturday, Feb. 13, in Beverly Hills. Read more.
Thursday, Feb. 04, 2016
It takes a perfect flick of the wrist and just the right angle to get a disk-shaped stone to skip across the surface of the water multiple times. So why is it so easy to get such impressive water-skipping performance from an elastic ball with only a mediocre launch? Read more.
Wednesday, Feb. 03, 2016
Utah State University President Stan L. Albrecht announced today [Feb. 3, 2016] that he will step down as president. He will remain in his role until a search for his successor is complete. Read More.
Thursday, Jan. 28, 2016
The Utah State University Center for Civic Engagement and Service-Learning was awarded two grants by the Utah Clean Air Partnership totaling $29,000 to reduce emissions and improve air quality. Read more.
Thursday, Jan. 21, 2016
Life-threatening infection is an ominous risk hanging over each and every invasive medical procedure. Needles, tubes, catheters and scopes, along with stents and other medical implants used in life-saving surgeries and treatments are critical tools for successful outcomes, but each poses potential danger. According to the Centers for Disease Control and Prevention, thousands of patients each year in the United States contract antibiotic-resistant, and sometimes deadly, bacterial infections during medical care. Read more.
Thursday, Jan. 14, 2016
What's your bee I.Q.? Perhaps you think all bees live in hives with a queen and produce copious quantities of delicious honey. It's also likely you avoid them like the plague because you fear a painful stinger getting lodged in your skin, if you disturb one of the feisty little beasts. Read more.
Wednesday, Dec. 09, 2015
Utah's Oscar's event for the building industry, hosted by Utah Construction & Design, shined the spotlight on Utah State University Eastern's new landmark facility Dec. 8 during its annual award ceremony at the Little America Hotel in Salt Lake City. Read more.
Thursday, Nov. 19, 2015
Utah State University was recently ranked as the top school in the nation for students pursuing careers in agriculture-related fields. Read more.
Thursday, Nov. 05, 2015
The School of Accountancy in the Jon M. Huntsman School of Business at Utah State University has formed a $1.5 million Bonnie B. and James H. Quigley/Deloitte Foundation Professorship in Accounting thanks to support provided by the Quigley's, with added support from Deloitte, through the Deloitte Foundation. Read more.
Thursday, Oct. 22, 2015
Preoccupied with the day's errands as you pull into the parking lot at Logan, Utah's, south Walmart Supercenter, you might not even notice it. But the multi-shop retail store is partially ringed by Spring Creek, a tributary of the Logan River. And in those waters, shrouded by willows, cattails and other vegetation live long-time Cache Valley inhabitants: beavers. Read more.
USU Wins National Bike Challenge University Division
Thursday, Oct. 15, 2015



Utah State University won first place in the college/university division of the National Bike Challenge, logging more miles from more cyclists than any other school. The 220 USU students and employees registered for the competition rode 76,157 miles, burned more than four million calories, averted 28,604 pounds of carbon dioxide and saved $17,957. Read more.

Thursday, Oct. 08, 2015
A new, $32.8 million grant will help more than 3,000 Utah middle schoolers catch the vision of higher education — and then make the dream come true.
Half of the funding for the new grant comes from the U.S. Department of Education, and the other half from state and local partners. It supports the USU STARS! GEAR UP Partnership, led by faculty and researchers at Utah State University. The program targets students in schools where more than 50 percent of the student body qualifies for free or reduced lunch, and it supports programming over a seven-year period. Read more.
Friday, Oct. 02, 2015
Professor Bruce Bugbee's job title, director of Utah State University's Crop Physiology Laboratory, conjures thoughts of a scientist whose work is firmly rooted in the earth. Rooted in the earth on Earth, that is. But for the past 33 years, the majority of Bugbee's research has focused on how to grow food in space. Read more.
Year of Water Exhibit Reception and Gallery Talk at USU
Thursday, Sep. 10, 2015
Just as water is often referred to as the "life's blood" of Utah, so too has it been the "life's work" of many at Utah State University. Particularly, as it related to the science of irrigation, water became of foremost importance when the territory established USU as the Agricultural College of Utah in 1888. Read more.
August 31, 2015
Kari Norman never expected to become an indoor ecologist. Her passion for nature and the outdoors permeates to her favorite color, green — that of living things and trees. Yet Norman's days are spent in an office looking over large spreadsheets, spatial files, and coding. It's not the typical image of a conservationist. Read more.
Shocking images of Day-Glo orange sludge snaking its way through southwestern Colorado to New Mexico and Utah rivers created a media sensation, but it's hardly an isolated occurrence, says Utah State University ecologist Chuck Hawkins.
"The Gold King Mine's bright orange spill, which, incidentally, was caused by the presence of iron, garnered a lot of attention but pollution from extractive activities is an ongoing issue all across the American West — across the whole planet, actually," says Hawkins, professor in USU's Department of Watershed Sciences and USU Ecology Center. Read more.
Monday, Jul. 27, 2015
A revolutionary new smartphone app, developed by researchers at Utah State University and Ulster University in Belfast, Northern Ireland, could provide the key to preventing the onset of Alzheimer's disease. Read more.
Thursday, Jul. 16, 2015
Literary and visual imagery intertwine in Lily Yuriko Nakai Havey's evocative narrative of childhood's end in a Japanese Internment Camp.
For more than 80 years, she has lived up to her childhood Japanese nickname "Gasa Gasa Girl" — a true "girl on the move." Read more.
Thursday, Jul. 02, 2015


In an effort to create efficiencies and further unite the Utah State University system, the Office of the Executive Vice President and Provost formally announced the creation of its Academic and Instructional Services (AIS) unit. Read more.
Research Sheds More Light on How the Aging Brain Works
Thursday, Jun. 18, 2015





A recent Neuroscience article sheds more light on how right- or left-hand dominance changes in mature adults — and it suggests that while that dominance changes over time, the reasons for that change involve more than a person's chronological age. Read more.
Thursday, Jun. 04, 2015
Ranked No. 12 nationally, Utah State University-Online made its first-ever appearance in U.S. News & World Report's Best Online Bachelor's Degrees for Veterans. U.S. News & World Report's is widely regarded as one of the preeminent college rankings reports. Read more.
Monday, May. 18, 2015
Dean Douglas Anderson has been named the Jon M. Huntsman Chair in USU's Jon M. Huntsman School of Business. Utah State University recently created the Jon M. Huntsman Chair, which will support the dean of the Jon M. Huntsman School of Business. The chair is funded in part through a contribution from the Huntsman Foundation.
Read more.
Thursday, Apr. 30, 2015
The most successful head coach to ever walk the court of Aggie basketball sidelines, Stew Morrill, will address undergraduate students during USU's 128th graduation ceremony Saturday, May 2, in the Dee Glen Smith Spectrum in Logan. The hooding ceremony for graduate students is Friday, May 1. Read more.
Monday, Apr. 13, 2015

Utah State University and Maverik, Inc., owners of convenience stores throughout the Intermountain West, jointly announced Saturday [April 11, 2015] a long-term naming rights partnership to its football stadium, which is currently known as Romney Stadium. Read more.
Thursday, Apr. 02, 2015
At first glance, Dale Wagner has a dream occupation — if you like climbing mountains. Ascending tall summits in exotic places was part of his job.

But it wasn't all a great workout with spectacular views. Before his high-elevation research began, a bad experience sparked a new line of inquiry: Altitude sickness.

He had it: nausea, headache and all. Others didn't. And, being a researcher, he wondered why. Read more.
Thursday, Mar. 26, 2015
Originating in the Sierra Nevada Mountains of eastern California, the 62-mile-long Walker River winds through the arid sagesteppe of west central Nevada, replenishing Topaz Lake, but nearly stopping short of Walker Lake, of which it once served as a principal inflow.
Remnants of prehistoric Lake Lahontan, Walker River and Walker Lake, both namesakes of 19th century explorer Joseph Reddeford Walker, have long been home to the Paiute tribe. Once teeming with Lahontan cutthroat trout and a magnet for migratory loons, the lake is now too salty to support its traditional fishery and waterfowl. The river, lifeline to the lake, is ailing from more than a century of diversion for agriculture, along with prolonged drought. Read more.
Tuesday, Mar. 17, 2015
Niel Holt, director of the Space Dynamics Laboratory, has been honored with the Utah Governor's Medal for Science and Technology. Holt will receive the honor during an awards ceremony April 15 in Salt Lake City. Read more.
Thursday, Mar. 05, 2015


Utah State University is turning 127 this year and celebrates by honoring alumni and friends at the annual Founders Day Ceremony Friday, March 6.

The presentation includes remarks by Utah State University President Stan L. Albrecht and Associate Vice President and Provost Noelle Cockett, who will highlight 2015 as the "Year of Water" at the university. Read more.
Thursday, Feb. 26, 2015
Utah State University undergraduate Cody Don Reeder had to turn off the ringtone on his cell phone.
"It kept going off during class," says the 22-year-old geology major. "I started getting a lot of media attention. At one point, I was getting email messages about every five minutes."
Reeder is among 100 finalists, culled from more than 200,000 hopefuls, selected to colonize Earth's red-hued planetary neighbor through the Mars One mission. Read more.
Study Finds California Drought and Eastern Storms Linked



Thursday, Feb. 19, 2015
Despite heavy but spotty rainfall in recent months, the drought in California and other parts of the West is expected to continue and intensify, and the atmospheric anomaly behind the drought is also pushing record snowfall and cold temperatures in the Eastern United States, again.

Read more.



Gov. Herbert Signs Order to Protect Sage-grouse, Praises USU Efforts
­
Thursday, Feb. 12, 2015
In an effort to keep greater sage-grouse off the federal endangered species list, Utah Gov. Gary Herbert signed an executive order Tuesday, Feb. 10, 2015, directing state agencies to protect and preserve the bird and its habitat. Read more.
Wednesday, Jan. 28, 2015
In the cold, nighttime skies over Alaska, a NASA Oriole IV suborbital sounding rocket blasted off from the Poker Flat Research Range Jan. 28 at 3:41 a.m. (MST) carrying six research payloads built by the Utah State University's Space Dynamics Laboratory into the Aurora Borealis as part of NASA's Auroral Spatial Structures Probe mission.? Read more.
Thursday, Jan. 22, 2015
Longtime Cache Valley resident and World War II veteran John "Burt" Millard and his wife, Alma Millard, are leaving a legacy that will impact future engineering students at Utah State University for many years to come. Read more.
Thursday, Jan. 15, 2015
A Utah State University professor, known globally for his expertise in converting biomass into fuels, has received a J. William Fulbright Foreign Scholarship Award.? Read more.
Thursday, Nov. 13, 2014


Along the fertile banks of the Nile River, a researcher from Utah State University is finding ways to turn a useless agricultural byproduct into something valuable while improving the region's air quality in the process.? Read more.